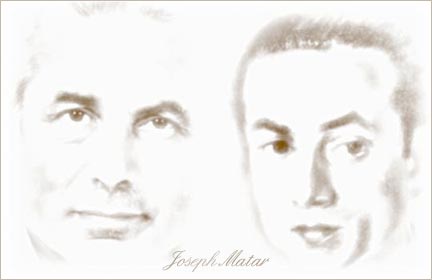 Biography:
Born August 3rd, 1935, at Ghadir, Lebanon.
Nationality: French and Lebanese.
Schooled at the Marist Brethren, Jounieh.
Polyglot. 
Art Scholarships from governments:
Madrid, 1961-1962-1963

Paris, 1963

Rome, 1973

Paris, 1985
Practice in studios of acknowledged masters:
Omar Onsi's, 1951-1961

George Corm's, 1958-1961

Rachid Wehbe's, 1955-1957

Italian Cultural Centre, Beirut, 1955-1957

Ecole Supérieure des lettres, Beirut, 1955-1957

Beirut Faculty of medicine (Anatomy), 1958-1959
Diplomas:
Diplomas of Higher Studies, Madrid University and San Fernando School of Fine Arts, 1961-1963.

Doctorate 3rd cycle, University of Paris. " Plastic arts, pictorial technology and expression."

Doctorat d' Etat 1999, Lebanese University.
Assignments:
Lebanese State instructor since 1954.

In charge of refresher courses for Lebanese art instructors in Beirut, Tripoli and Byblos state high schools, since 1965.

Instructor of Fine Arts at Holy Spirit University, Kaslik, since 1963.

Titular professor of the Lebanese University.

Chairman of the Drawing and Painting Department at the Faculty of Fine Arts of the Lebanese University, 1980-1985 and 1994-1996; member of the Faculty Council.
Exhibitions:
More than sixty-five personal exhibitions in Lebanon and around the world.
1961 – Private show, JOUNIEH.
1964 – Carlton Hotel, BEIRUT.
1965 – Sacred Art Show, St. Joseph's University, BEIRUT.
1966 – Sacred Art Show, Seminary of GHAZIR.
1967 – Town Hall, JOUNIEH.
1968 – Carlton Hotel, BEIRUT.
1970 – St. Joseph's University, BEIRUT.
1971 – Town of AJALTOUN.
1972 – St. Joseph's University, BEIRUT.
1973 – Carlton Hotel, BEIRUT.
1974 – Hispanic Cultural Center, BEIRUT.
1976 – August: at the Zahle Club, SAO PAOLO, BRAZIL.
1976 – July: at the Monte Libano, RIO DE JANEIRO, BRAZIL.
1976 – September: at the Belo Horizonte, BRAZIL.
1977 – Cultural Center, JOUNIEH.
1978 – Fish Grotto, JOUNIEH.
1979 – Casino du Liban.
1979 – Water-color Show at the A.T.C.L., JOUNIEH.
1980 – May: Higher Council for Culture and Science, KUWAIT.
1980 – May, June: Le Prisme Gallery, JAL EL DIB.
1980 – December: Saint Rafqa, JEL EL DIB.
1981 – April: Hispanic Cultural Center, BEIRUT.
1982 – May: Le Prisme Gallery, JAL EL DIB.
1983 – February: Hispanic Cultural Center, BEIRUT.
1984 – Le Prisme Gallery, JEL EL DIB.
1986 – Hispanic Cultural Center, BEIRUT.
1987 – Le Prisme Gallery, JAL EL DIB.1988.
1988 – Cultural Center, MIZIARA.
1989 – December: President's Palace, BAABDA.
1990 – Brief activities in various Lebanese towns.
1991 – April: Drawings and studies, Le Prisme Gallery, JAL EL DIB.
1991 – September: Water-colors, KANO, NIGERIA.
1992 – February: Water-colors, IVORY COAST.
1993 – November: Foyer Franco-libanais, PARIS.
1995 – June: Le Prisme Gallery, JAL EL DIB.
1996 – February, Galerie Jade, rue des Trois Maries, LYON, FRANCE.
1996 – June: Matignon Gallery, SIN EL FIL.
1996 – April, May: Town Hall (Mairie), 8ème arrondissement, LYON, FRANCE.
1996 – October: Centre d'échange culturel ELAC, LYON. FRANCE.
1996 – October, November: Cité des artistes, MORESTEL, FRANCE.
1997 – March: Echos Gallery, JOUNIEH, LEBANON.
1997 – November: Galerie Jade, rue des Trois Maries, LYON, FRANCE.
1998 – May: Société Générale Libano-Européenne de Banque, SIN EL FIL.
1999 – January: Table d'hôte des caves de France.
1999 – May: Artisanat, JOUNIEH.
2000 – June: Artisanat libanais, JOUNIEH.
2001 – March: Villa Sursock, BEIRUT.
2001 – December: Town Hall, JOUNIEH.
2002 – October: ABU DHABI., U.A.E..
2002 – November: A.D.G. Gallery, BEIRUT.
2003 – December: Phoenicia Intercontinental Hotel, BEIRUT.
2004 – August: Musical evening, BEIT SHEBAB.
2004 – December: Surface libre Gallery, JAL EL DIB.
2005 – September: Al Ryad, SAUDI ARABIA, 27th September – 9th October , 2005.
2006 – June – Middle East University, Beirut Lebanon.
2006 – October – Surface libre Gallery, JAL EL DIB.
2007 – December – (Sepia) Lebanese Hospital Jhitawi, Beyrouth.
2008 – August, Art and craft center, Byblos Lebanon.
2009 – August, Art center in Mtein, Lebanon.
2010 – July, Safadi Fondation, Tripoli.
2010 – September, Cultural Center in Bikfaya
2010 – December, United Nations Palace in Geneva, Switzerland
2011 – Surface libre Gallery, JAL EL DIB
2012 – Ghazir Municipality
2013 – October, Unesco Beirut
2015 – Surface libre Gallery, JAL EL DIB
2015 – University of Balamand
2016 – Equipe Exode

Works in private collections, public, religious and private corporations around the world: France, Spain, Italy, Belgium, Switzerland, United Kingdom, Germany, Vatican, United States,Canada, Nigeria, Ivory Coast, Ghana, Brazil, Mexico, Uruguay, Colombia, Venezuela, Argentina, Abu Dabi, Irak, Syria, Jordan, Saudi Arabia, Emirats, Kuwait, Cyprus, Egypt…
Interviews:
Courses of artistic formation on Lebanese Television, for all students at universities and teachers' training colleges.

Radio – BBC, Voice of America, Montecarlo, France and Kuwait Radio, Radio Liban… etc…

TV – Kuwaiti and Lebanese etc…
Publications by the artist concerning his work:
Several articles in the local and International press…

Several talks given in educational institutions in Lebanon and abroad…

Polycopied courses for secondary (senior high) school classes and the teachers' training college.

Teachers' book in Arabic for the Centre for pedagogic research and Development.

Mentioned in the book "Couleurs Libanaise" by Joseph Sokhn – Edition 1982.

Mentioned in the book "Cent Ans d'Art Plastique au Liban 1880-1980" – Edition 1982.

A book about the artist's work: Peintures du Liban –Joseph Matar – Tanit Edition -1996.

Member of "Art in Context Organization" – New York – 1997

Mentioned in the book "Pioneers from Lebanon" Ed. 2000.

The work of Joseph Matar was critiqued on April 11, 2000 by Joanna Bassil (Bachelor of Arts degree, University of Quebec – Montreal, Canada).- A question of culture and formation which finds its expression in the work of Joseph Matar.

His poetry has been mentioned in "Dreams and Fantasies" part of The Silence Within series by The International Library of Poetry.

The works of Joseph Matar appear in the book "Histoire de l'art du 20ème siècle, artiste peintre Joseph Matar", Tome III, Académie   Michel Angelo des beaux arts, Beirut, by Alice Atwé under the supervision of Bernard Renno.

In July 2001, his poetry was recognized by an award for outstanding achievement from the international library of poetry.

Mentioned in the book "Ardalil – Lebanese Artists Guide, 2001", L'Ecrit du Phénix, Editions Orientalistes.

Mentioned in the book "Arab Artists Resource Guide", an exclusive directory of Arab cultural representatives – Edition 2003.

2003 – A water-color by the artist, 32 x 50 centimeters, was sold for $1000 at the National Apostolate of the Maronites, USA (9-13 July, 2003).

The work of Joseph Matar was critiqued on March 6, 2003 by Jean-Maximillien de la Croix De Lafayette (Music and Art Society of America, Inc., President Emeritus), Meet Joseph Matar: The Artist who spoke to nature and unveiled its divine beauty! And mentioned in the book 'United States and the World Face to Face'.

The work of Joseph Matar was critiqued on April 19, 2003 by Joan Lluís Montané from the International Association of Art Critics

.

Mentioned in the Art magazine "Amman"; Number 100 – October 2003.

In November 2003, his work was recognized by an award for outstanding achievement from "Said Akl Awards".

Mentioned in the magazine "Cantos Cadre" Canada; Volume 2 – Fall 2003.

A masterpiece by the artist was featured on a greeting card (20.000 printed cards) to promote the commemoration of the Deir Yassin massacre of Palestinians in 1948 – Sunday, April 4th, 2004 at the Royal Geographical Society, Kensington Gore, London SW7

The work of Joseph Matar was critiqued on May, 2004 by David Nye, Joseph Matar: "Wealth of Artistic creativity and abundance of mesmerizing multidimensional colors – The Last Hurrah of the last great masters of the grand Orient".

The works of Joseph Matar appear in the Images of Eyes Gallery – United States, October 2004.

An article has been published about Joseph Matar in "New York arts Magazine", Vol 9 n' 11/12, 04, New York USA.

Mentioned in the "Dictionnaire Drouot Cotation 2004, 2005, 2006, 2007, 2008 and 2009 – Larousse Diffusion".
Mentioned in the book 'Christianisme Oriental Kérygme et Histoire" Geuthner, 2007.


Mentioned in the book 'Encyclopedia of the 21st Century: Biographies and Profiles of the First Decade', published by Times Square Press (New York), 2008.

Mentioned in the book 'Wild Mulberries' by Iman Humaydan Younes, published by InterLink Books, 2008.
Mentioned in the book 'Les nouveaux Gulliver' of Jean Marcoux', published by EditionsPourTous, 2008.
Mentioned in the Mags Byblos Art and Byblos Switzerland, published by Dr. Joseph Yammouni, 2008.
In October 2008, his work was recognized by an award from Mubadarat development in Beit Anya Harissa.
Mentioned in the book Ainsi parlait Jésus by Claude Guérillot, published by Edition Vega, 2009.
Mentioned in the book "La Vierge à l'Enfant au pays des cèdres" by Michèle Azzi, 2011.
Mentioned in the book "Byblos, land of God" by Raymond Yazbeck, 2013

Mentioned in the book "Le Livre et la Raison" by Claude Guérillot – Eléments pour une théologie du 3ème millénaire – Editions d'Antioche, Bruxelles

Mentioned in the book National Geographic Learning, a division of Cengage Learning – May 2013 (Cengage Learning, text book with a Circulation of 1,200,000. Door with Palm Trees & Lola)

Mentioned in the book 'L'Ane et l'Abeille, Gilles Lapouge', edition Albin Michel – February 2014


Mentioned in the article 'Computational Materials Science', Pr. Dr. Samir Matar – November 2014

Mentioned in the book Ecce Homo by Claude Guérillot, 2015


The Beatitudes artwork was reproduced in Horizons (Magazine for presbyterian women – March, April 2017) and for the publication for Edington Music Festival, Wiltshire, United Kingdom, August 2017

Mentioned in the editorial of the book Byblos – Swiss and international shared values – February 2018
Mentioned in the book 

Personalities of Arab World

 – March 2018
The Arabic and Middle Eastern society at the University of Exeter UK, choose the artworks of Artist-painter Joseph Matar to reproduce them on t-shirts and promote the Art of Lebanon – March 2019
Mentioned in the scholar books Hachette Antoine 2019 – 2020